Explore Portable Power Stations! Lightweight and Versatile Energy Solutions
Power is vital in this century, and everyone relies on electricity. Portable power is increasingly coming to the rescue of many adventurers and people in situations they never expected. This article will analyze how such remarkable devices work, what purposes they can serve and what is so important about them accompanying a person while they are traveling.
What is that portable power station?
To begin with, it is important to shed light on some fundamentals related to portable power stations prior to elaborating their operation principles as well as functionalities.
A portable power station is a standalone source of energy intended to provide electricity to any device or a private house. Compared to contemporary sources of power such as generators and plugs, these batteries are worlds apart. Such models can be regarded as appropriate sources of emergency power, considering their portable nature.
How Does a Portable Power Station Work?
Keeping that definition in mind, let us discuss the purpose of portable power stations. These units work off a simple yet effective operational philosophy for maximum mobility. Such devices are specially designed to store energy and release it at your convenience.
The energy storage parameters form the crucial base of a portable power station's operation. Most contemporary designs use a lithium iron phosphate encased in a tough aluminium case. The mixture provides an incredible mix of high performance and long-life operation. Such batteries can contain a significant amount of energy, suitable for the power supply of different instruments.
What are the Performance capabilities of a Portable Power Station?
Indeed, portable power stations do not fail in terms of their performance capabilities. Portable power stations' capability to perform in important scenarios, such as during outdoor activities or emergencies, is of utmost importance. Let's explore their performance in detail:
Portable power stations have very impressive power generation capacities. These are compact-sized small units but capable of supplying different watts. It is available in different models of up to 700 watts, 500 watts and 300 watts(W). Such amounts of power can readily charge many devices, small home appliances or medical machinery in case of emergency.
It is also important to note their efficiency. The portable power stations have high efficiency in transforming energy into useful electricity. Such efficiency speeds up the process of your devices being charged in order to achieve readiness for usage immediately when required by you. A portable power station always delivers stable electricity to all devices like laptops, iPhones, cameras, etc.
One of the most significant advantages associated with portable power stations is providing a constant power supply. The stations operate differently from other power sources, such as those with fluctuations and voltage deviations, since they give stable power results. Pure sine wave output, mostly at 220V, guarantees you steady and stable power for your gadgets. It is particularly crucial to such delicate electronics as a laptop that it should run without any problems.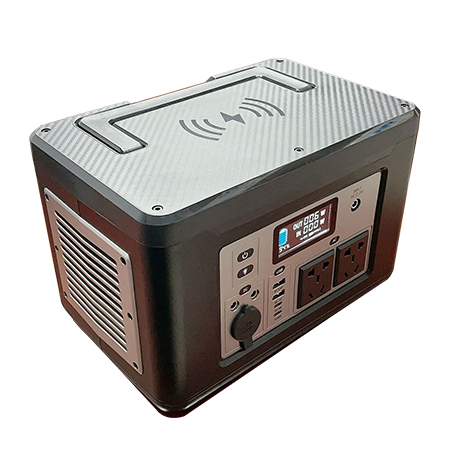 To top it all off, these power stations were developed with a view of convenience. These weigh approximately between 3.8 kg and 5.8 kg. The weight varies according to different models and is, hence, portable and carryable. Their overall small size makes them highly portable and convenient. This weight ensures that you can easily put this power station into any vehicle you take on a camping trip. Road adventure or even when you encounter a blackout period.
Where Can You Use a Portable Power Station?
Portable power stations are highly flexible. In general, they serve different purposes depending on where they are used and, hence, can be good partners in any activity. Here, we'll explore the diverse places where these power stations come to the rescue:
1.Outdoor Adventures:
A portable power station turns out to be a perfect partner for enthusiasts of an adventurous or open-air life. These devices keep you powered up and online whether you're camping, hiking or on a road trip away from electricity sources. What about recharging your camera batteries using your solar system? Perhaps you want more efficiency in your home with a mini fridge or a portable projector? Perhaps you want more efficiency in your home with a mini fridge or a portable projector? This makes them stand out in regard to their adaptability to the vagaries that characterize outdoor environments.
2.Camping Trips:
Most camping trips involve traveling to distant places that are far off from any traces of civilization. The portable power station is where one can charge their devices, and it also includes items that are used while camping, like the lanterns or the stove with electricity use. They continue to give electricity, so you have unhindered mobile phones and other lighting needs since you are safe in the darkness.
3.Hiking Expeditions:
Every single ounce of weight on a hiker's backpack is important. Due to its portable design with a weight of not more than 5.8 kilograms, such power stations are very convenient for having a stable battery without extra bulkiness. The power pack is necessary to charge your GPS gadgets, mobile phones or other vital electronic apparatus as you move in the trail so that you do not lose way.
4.Emergency Power Source:
Portable power stations are lifesavers during a home power outage. It ensures all the necessary equipment like medical equipment, lights and communication devices are running. It is reassuring because it empowers you to deal with any emergency situation with confidence.
5.Compact and Usable Size:
The portable power station's small size of only 111225cm or 19-28×10 cm makes them convenient to use. This also allows them to be portable and easy to erect in different situations. However, when fitting them into the trunk of your car for a road trip or including them as part of your camping gear, they are conveniently small and won't require a lot of space compared to other items.
Our Popular Models of Portable Power Station
We have different models of portable power stations. Their characteristics vary from model to model. Our popular models are 700 Watts, 500 watts, and 300 watts.
Our 700-watt Portable Power Station, with product number ENERGY STORAGE PARAMETERS, features a robust LITHIUM IRON PHOSPHATE battery in a ladder block aluminum shell measuring 22x70x130cm, providing 8Wh at 3.2V x 22A x 7-492. It offers a 13.5V 10A constant current cigarette lighter DC output and 220V 700W constant power AC pure sine wave output. Charging voltage adapts up to 30V and adjusts charging power up to 150W in 3.5 hours. Weighing 5.8 kg and measuring 19-28x10cm, it operates in storage temperatures from -10°C to 50°C and can withstand -20°C to 60°C in storage conditions.
Our 300-watt Portable Power Station, product number OKD-300-2, boasts a Ternary lithium battery with 333Wh (90000mAh) rated energy. It charges via CC/CV 15V/2A and features an AC inverter output of 110V-60Hz/220V-50Hz, DC output of 12V/10A, and 25W PD output. Compact at 11cm x 12cm x 25cm, it operates in temperatures from -20°C to 60°C, has a DC output of 9V-12V/10A MAX, USB output of 5V/2.1A, and a rated power of 300-350W. Weighing just 3.5kg, it's a versatile power solution for various environments (5%-90% humidity).
What Are the Advantages of Portable Power Stations?
Why are portable power stations different from others? Let's explore their key advantages:
●Multiple Output Modes: Portable power stations are also very portable. They have varying output modes like AC, USB DC, and PD, making them ideal for recharging laptops, mobile phones, small refrigerators, and power tools. They supply electricity for those undertaking projects, camping and also those recharging their gadgets.
●Compatibility: The devices are universal and can charge several device charging standards, such as QC4+, QC4, QC3.0, and QC2.0. As a result, it ensures that the powerhouse appropriately adjusts for reliable and secure charging in spite of disparate devices' specifications. Irrespective of whether it is your new iPhone or an old tablet, incompatibility worries should be avoided.
●High-Current Charging: One of the most prominent attributes that users of all devices value is a high-current charging mode. The modus is intended for all kinds of brands and guarantees a fast charge‑up. Don't let your batteries get turned off, and switch to the use of solar-powered generators instead. They will accomplish it in a short time.
●Constant Power Supply: These stations offer constant power supply. It is usually a source of pure sine wave, typically having not more than 220 Volts and which provides 300 watts to 700 watts for continuous operation (watts output varies according to the model). This means that your devices will be receiving enough power even in case of voltage fluctuations or falling ones.
●Automatic Voltage Adjustment: Portable power stations come with a built-in voltage regulator mechanism. The smart function determines the amount of energy needed by your devices and supplies the appropriate voltages, thus leading to effective and safe charging. It saves you the trouble of having to set it manually, ensuring the best performance from all your equipment.
●Wide Temperature Storage Range: They can be stored over a wide range of ambient temperatures varying from minus twenty degrees Celsius to sixty degrees Celsius. This wide range of storage conditions guarantees that this power station will operate perfectly under different environmental conditions, like during winter nights and scorching hot summer days.
All in all, these features are the best realistic, efficient alternative power source for both emergency purposes and wild expeditions.
Conclusion
Finally, portable power stations can be regarded as a contemporary solution to the constantly increasing requirement for a portable and trustworthy power source. They are your trusted partners when hiking through the wilderness or during an emergency situation. They are important because of their working principles that allow them to work efficiently, impressive performance, ability to take different loads, as well as numerous advantages that they possess.
Call to Action
If you're sure that a portable power station is the answer to your problems, we advise you to choose the product from VELA POWER Technology Company, which is one of the Chinese professional battery manufacturers. The company has over 15 years of experience producing high-quality portable power stations. Explore our products online and order home the power answer you've been eagerly anticipating. It's a win-win for your device plus your peace of mind wherever you are.