Battery testers are one of the electrical tools that can be used by anyone, as they do not deal with exposed sources or high levels of electricity. Additionally, there are no complicated measurements to interpret – the 
battery tester
 will simply tell you whether a battery is worth using or needs to be disposed of replaced. It's important to test your battery and electrical system regularly, not just when it's starting to show signs of weakness. Proactively testing it (or making sure your mechanic does) twice a year will help reduce your chances of failure. Most retailers offer a simple free five-minute battery test. Use our Find a Retailer for a location near you to get a free battery test. In this essay, we will share 2 major battery testers. Analogue battery tester and digital battery tester. This page will cover the advantages and disadvantages of Analogue battery tester and also digital battery tester.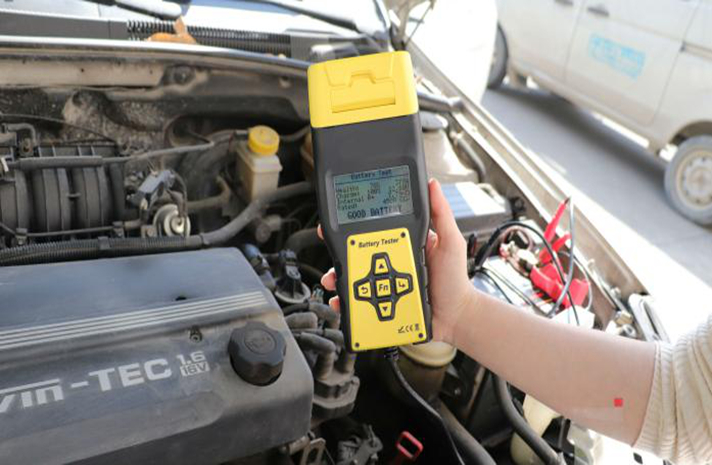 1. What is Analogue battery tester?
Analogue tester is a battery tester with a needle dial. I will take us on sale tester model BT001  for example. Battery Tester BT001 is a great tester with a pointer which apply for 6v or 12v battery. It combines quality and value and is a great battery tester pick for those who need to test 6 and 12-volt batteries up to 1000 CCA.  It can test the batteries of car, motor vehicles, light trucks, RVs, motorbikes, boats, ATVs and even law tractors. It is thus a great all-rounder and is able to test the battery condition and run a complete system charging diagnosis. This device is simple to use and will offer you accurate readings that can lengthen the lifespan of your battery and enable you to fix problems quickly. Many consumers highly recommend this battery tester and have expressed great satisfaction with its ease of use, value, and performance.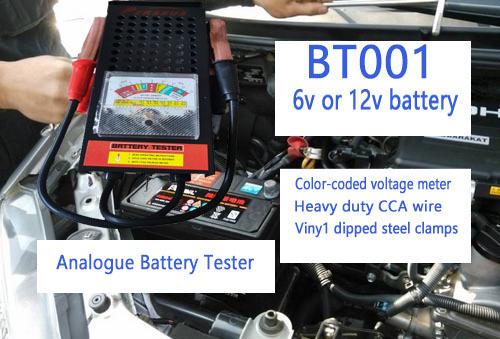 1.1 What are the advantages of Analogue battery tester?
Analogue battery tester can test a complete charging system including alternator, regulator, and battery. Also tests starter motor for an excessive draw. When you test the battery, these points are good for you. (1)They are cheaper compare to digital testers (2)They respond very quickly to measurement.
1.2 What is the disadvantage of Analogue battery tester?
(1)It requires manual reading of parameters from the scale (2)The results are not accurate. The inaccurate results are caused due to three types of errors viz. improper range setting, improper counting on the scale. (3)The testers use a needle which is rotated by a magnetic field. It gets damaged easily if it gets dropped by mistake.
2. What is digital battery tester? 
Digital battery tester
 is the digital one which using an LCD screen with bars as indicators. I will take the best selling model BA106 for an example. BA106 is used for The 12v lead-acid and lithium, which is a good way to check the health of your battery Including the function of battery test, cranking test, Charging test and print. Not only does it check the voltage reading, but it also checks the CCA (cold cranking amps) to check how your battery is truly operating. The tester report notes that any CCA reading below 20 percent of its rated CCA indicates a battery that is about to fail. So, if a battery is rated at 1000 CCA but is only producing 700 CCA, it's a sure sign that it's not going to last very long.  Thus, this device gives a comprehensive analysis of your battery's lifespan. As well as accurate battery lifespan, it is also able to test alternator and starter tests.  This is a great automotive battery tester and ultimately tells you the state of your battery's health, the state of its charge, and its internal resistance.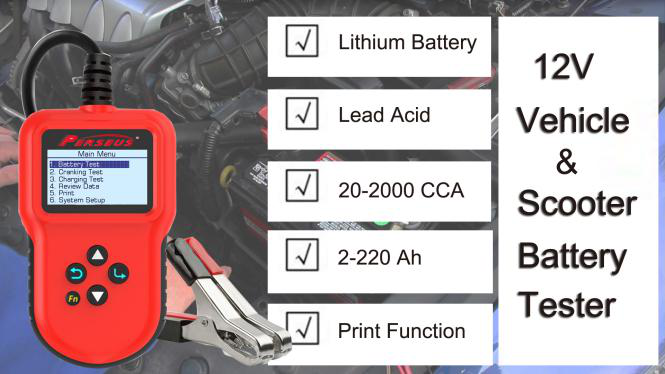 2.1 What are the advantages of digital battery tester?
A digital battery tester is the preferred option as they are safe, easy to use and offer a quick diagnosis of the condition of the battery. As for BA106. it has the following advantages when it used for testing for the battery. (1). It offers automatic output display. With this device, it will be easy for you to get readings, since its output is displayed automatically in numbers through a number and words display, unlike the analogue battery tester that requires you to take a closer look into the scales to read values. (2) It ensures accuracy. Typically, a digital battery tester can show more accurate values than the analogue and can provide the output of up to 4 decimal places that the analogue could never show. (3). It has auto polarity functions. It can read negative values, especially in terms of voltage. When you place the probes into the opposite polarity, you will get a negative output. This is also where a digital type is more advantageous than analogue type.
2.2 What are the disadvantages of digital battery tester?
(1)It does not do well with measurement fluctuations. Unlike analogue tester, digital testers cannot read measurement fluctuations. (2)It is more expensive than the analog type. As a previous technology, the prices of analog testers are typically lower than the digital versions. Fortunately, as time goes by, the difference in prices between analog and digital is no longer that big.
3. Which Battery Tester works better?
Based on the above information, it is obvious that we can know the differences between the two battery testers. Which one is better for working? Weigh down its advantages and disadvantages to know if it is the best solution for your needs. They are used in similar ways, only the display is slightly different; the digital one using an LCD screen with bars as indicators and the analogue using a needle dial. However, they work slightly differently: analogue battery testers measure batteries being under load, which means they test the batteries as if they are in use. This gives a more accurate picture of the battery's remaining life. To some extent, Digital battery testers need a battery to function and do not include the resistor, which is what measures the battery under load on an analogue tester. Digital battery testers are not as effective as their analogue counterparts because of this.