Description
6v or 12v Battery Tester 
The 6 or 12v  Battery Tester BT005 is a great tester with pointer. It combines quality and value and is a great battery tester pick for those who need to test 6 and 12 volt batteries up to 1000 CCA.  It can test the batteries of car, motor vehicles, light trucks, RVs, motorbikes, boats, ATVs and even law tractors. It is thus a great all-rounder and is able to test the battery condition and run a complete system charging diagnosis.  This device is simple to use and will offer you accurate readings that can lengthen the lifespan of your battery and enable you to fix problems quickly.  Many consumers highly recommend this battery tester and have expressed great satisfaction with its ease of use, value, and performance.
Detailed Images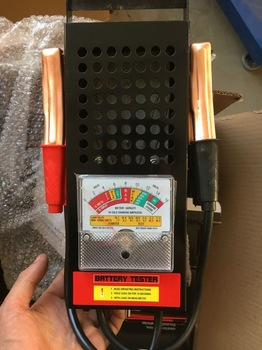 Product Specification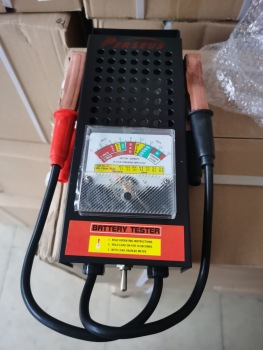 Fast and easr to use,this battery load tester checks your vehicle's charging system
          under working conditions. This load tester takes the guesswork out of electrical diagnosis,making it easy to pinpoint charging system failures.
Test complete charging system including alternator,regulator,and battery. Also tests   starter motor for excessive draw.

For use with 6 volt or 12 volt systems

Color-coded voltage meter for easy reading

Heasy duty steel case with enamel finish

Viny1 dipped steel clamps with copper plated jaws

Heavy duty CCA wire
More Battery Testers